Activities during 2019 - 2020
Dr. Cheruvelil Endowment Lecture

Dr. Cheruvelil Endowment lecture was held on 24/06/2019, Monday. Dr. Stan Denman, Professor of Theatre Arts, Baylor University USA and his daughter Merrit Denman were invited to deliver the session on "Why Theatre Matters". The seminar began with lighting the lamp. The Principal, Dr. Fr. Prasant Palackappillil inaugurated the session and presented Mementos to the guests.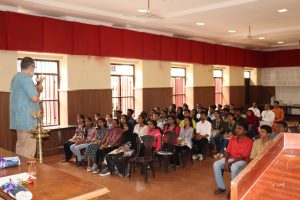 The Lecture was instructive and interactive as it gave deep understanding on the multiple aspects of theatrical expressions. The basic principles of acting were taught through demonstrations and student centered activities. Students were given tasks to perform on stage allowed them to evaluate and appreciate each other. Following the lecture session, a theatre workshop and questionnaire session was conducted by Dr. Merrit Denman.
---
Subversive Readings on Cinema

A lecture by Jayan K Cherian, a well-known filmmaker and critic, who is known for the famous feature films like 'Papilo Buddha' "Ka Bodyscopes' and 'Shape of Shapeless' explained different aesthetics of filmmaking. He shared his personal vision an understanding of film making based on his three films. Mr. Cherian shared the reason why it is necessary to make a social commentary through movies since it is the most influential medium of art in 21st century.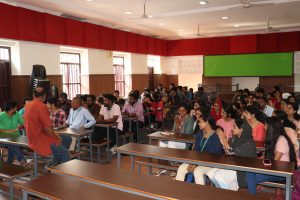 ---
English Department Association Inaugural Address: Shakespeare Myth: Genius, imagination
Prof. Jossy Joseph SB College
The lecture, Shakespeare Myth: Genius, imagination by Prof. Jossy Joseph from SB College was held on 5th December 2019. He shared some very interesting and deep insights into the life of the literary genius. The lecture gave a perspective upon which the students should approach the works of Shakespeare.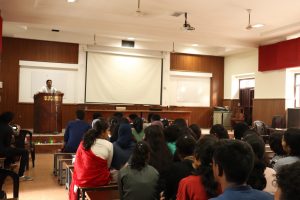 ---
Talk by Tenzen Tsundue – Tibetan poet
The session by Tenzin Tsuendue, the famous Tibetan activist and writer was mainly focused on the Tibetan crisis and their struggles. He recollected his childhood experiences of being in India as a refugee and finally his experience of still being a refugee in India even after here for long forty-eight years. The fact of being a refugee is something that trigger him as well as his Tibetans. Students were awestruck at his deep understanding on the current political scenario as well as his wealth of knowledge about the history of Tibet, India, China and other Western countries. He passionately took the students through two of his poems titled as 'Exile House' and 'When it rains in DHaramashala.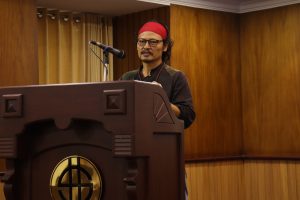 ---
Subhi Thresa Sebastina Memorial Seminar, Monday, 3rd February 2020. "Mapping Scientific Discourses in Fiction"
Talks by Dr. Gigi Alex IST, Trivandrum and Dr. Aravind R Nair, Sacred Heart College Thevara
The French philosopher Bruno Latour's thoughts on neo modernism was the focus of the lecture. Aravind sir started the lecture with a tribute to all French philosophers. He made a statement with the presentation if a magazine cover of New York Times to show the significance of Latour's theories. Latour's works on non-modernism and critique of modernity was discussed. The comparison of representation of human race in different eras were discussed. The lecture was concluded with a distinction between two badges of NASA.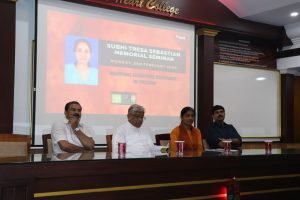 The lecture started with a discussion on what kind of literature can be used as science fiction. The transition of science fiction from robots to cyber –based fiction was a crucial point of discussion. Post humanism was discussed on a wider aspect. Dr. Gigi mentioned numerous novels and films to substantiate that post humanism is basically an "Ironical political myth." Dr. Gigi also talked about alteration in human race leading to transhumanism and exogamy. The lecture was insightful on the interventions of science and literature.
---
International Conference
(Re)Negotiating the Spectacle: Gender, Body and Discourse in Films
14&15 February 2020
Prof. Laura Mulvey
The keynote address by Laura Mulvey was based on the film, 'Under the skin of the City" directed by Rabhshan Bani E'temad. It explored the nuances through which cinema transformed the boundaries of culture and idea. She also analysed the representation of a mother -Juba in the film as a factory worker, a concerned mother, as an individual exercising her right to vote and how the representations where complimented by directorial choices and camera angles.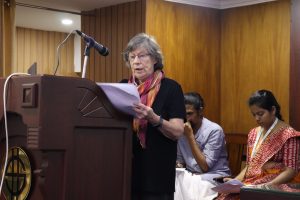 Prof. Madhav Prasad
Subjects in search of their own Bodies: Capitalism and Contemporary Indian Cineman
The second plenary session attempted to analyse the flow of capitalism in the light of the films, "Massan," and its other equivalents in other Indian languages.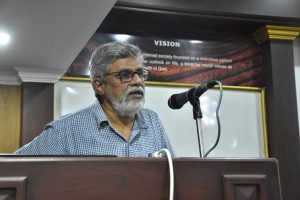 Prof. Ravi Vasudevan
Georgekutty's Gamble on Cinema: Drishyam, Genealogies of film Fragment and Mediatized
The third plenary sesson by Ravi Vasudevan attempted on analysis of Malayalam film 'Drishyam,", and how cinema itself can be used and traced as an educational tool.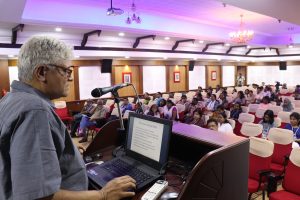 ---
Invited Lecture on Paradigms, Models and Ways of Reading by Prof. A. M. Geevarghese
An Invited lecture on Paradigms, Models and Ways of Reading was held on 19/11/2019, Tuesday by Prof. A. M. Geevarghese. The lecture was instructive as it gave deeper understanding about reading literature, especially reading poems. He also read a good number of poems as examples.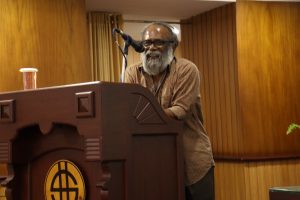 ---
Talk on Post Theory – Dr. Rajesh V Nair, School of Letters, Kottayam
A Lecture on the topic Post Theory was given by Dr. Rajesh V Nair on 28/11/2019 from 10am to 4.30 PM. The lecture basically dealt with contemporary trends in literary theory; epically on cyber-theory, fat studies, disability studies, etc. He also emphasised the necessity and process of paper presentations and projects.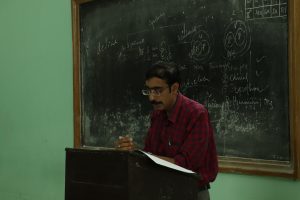 ---
Talk on Modern European Fiction: An Introduction by Dr. Joby Mathew, St. Thomas College, Pala
A Lecture on the topic Modern European Fiction: An Introduction was taken by Dr. Joby Mathew on 29/11/2019 from 10.am to 12.30pm. Post graduate Students of first and second year English attended the session. The lecture introduced modernist realms of literature and distinctive features of realism, modernism and postmodernism.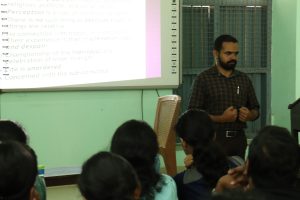 ---
Pranjna Foundation Endowment Lecture II
Rethinking Humanities Education by Prof. Sundar Sarukkai
The prajna foundation lecture II was conducted on 21/01/2020 and the lecture was delivered by Prof. Sundar Sarukkari on Rethinking Humanities Education. He dealt on the topic of humanities as an academic principle from the very outset in USA after the World War II. Humanities has been a colonial discipline and part of anthropological studies. He provided a distinction between scientific knowledge and humanities as an academic subject and the scope of both as a subject of study.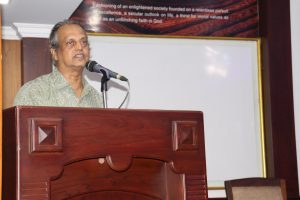 ---
Research Centre Inaugural Address by Prof. A. Joseph Dorairaj
Orientation to Theory: Classical and Modern
Prof. Joseph Doriraj took a fruitful session on the topic, Orientation to Theory: Classical and Modern as part of the inauguration of research centre of the department of English. He introduced the beginning of theories from classical to the modern.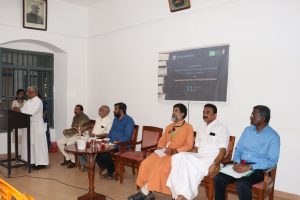 ---